Back to Don's Articles Page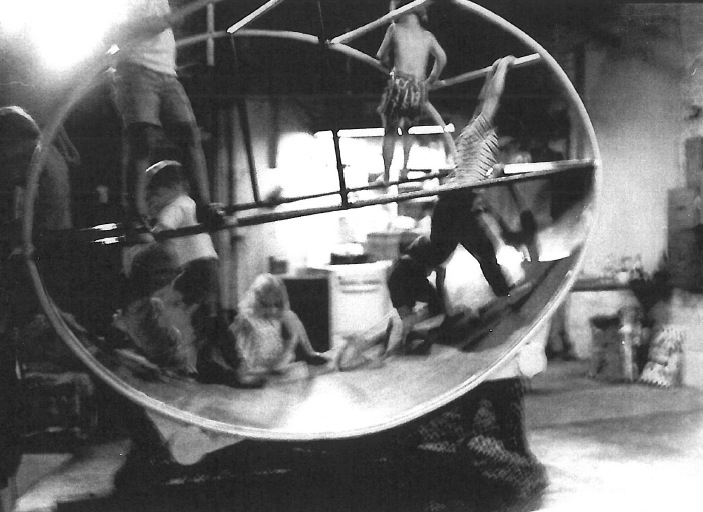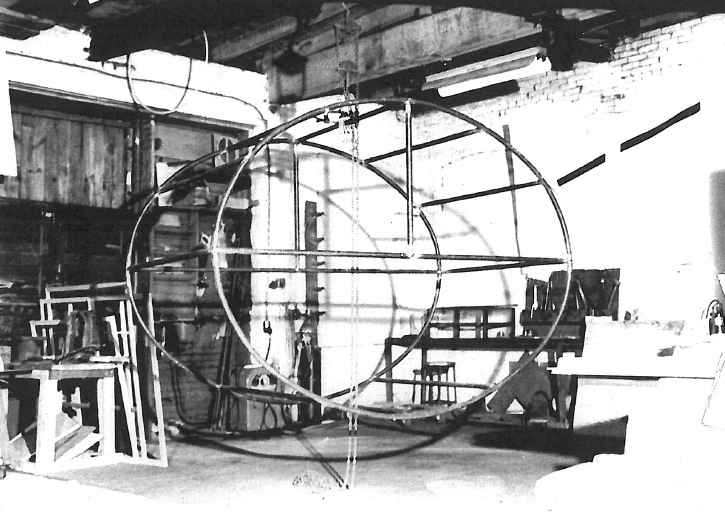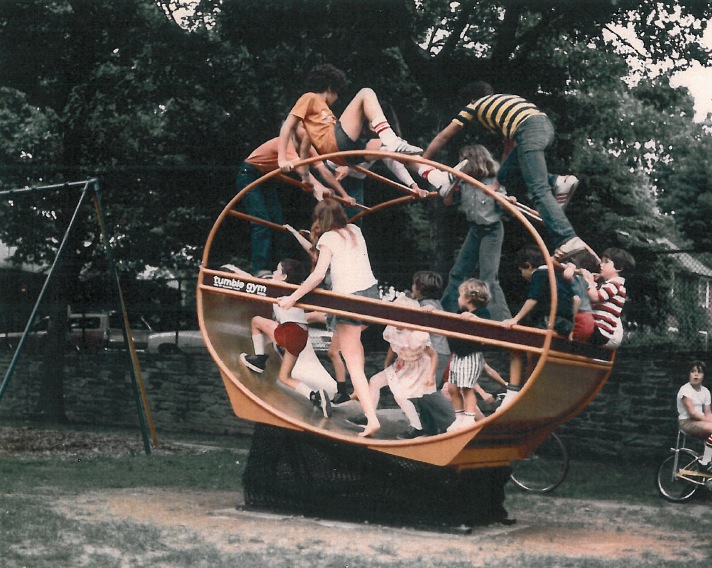 This is Don Newman's first Patented Invention at age 19, called the TUMBLE GYM®.
About 800 all around the country.
This building is also Stretch Devices Inc. first Factory, starting in 1973, and where the Newman Roller Frames® were invented and developed.
The Tumble Gym Rotates 40 degrees each side of the vertical axis as the children learn
how to communicate together to get their total weight to go from side-to-side.
If there is not enough communication and the children move all over, but don't have more
of their groups weight moving to one side, the Tumble Gym with barely move.
A hydraulically controlled suspension system allows for smooth fluid movement. Just fast
enough for children to have trills and suspense, but the cab decelerates as it rotates
towards its limits.
3 back up systems, to prevent the moving cab from not stopping at the end of the 40 degrees. This motion piece of play equipment can be fire bombed or aggressively vandalized
without any chance of the Sliding Cab to not stop softly.
The Protective Bellows on the bottom is plastic coated Steel fence mesh, turned sideways from its normal use position so that it can function as a Protective Bellows.
The children can slide on the bottom, and as they are strong enough climb to the first bar
and then all the way to the top, all while the cab is moving.
No serious injuries in over 30 years.
---
---- 27 YEARS OF FURNITURE DESIGNS AND MANUFACTURING BY DON NEWMAN --
http://www.keiser-newman.com/web/
ALL OF THE FURNITURE LOOKS HAND MADE TO MOST PEOPLE, BUT IT ISN'T. ALL TOOLED FOR MASS PRODUCTION.
VERY PRECISE MANUFACTURING PROCESSES AND STANDARDIZATION. NATIONAL AWARD WINNING IN N.Y.C. A R.O.S.C.O.
K-N FURNITURE APPROXIMATELY 60% OF PRODUCTS SHOWN + APPROX. 10% OF INSTALLATION PHOTOS
ALL FURNITURE MANUFACTURED IN THE SAME FACTORY NEXT TO NEWMAN ROLLER FRAMES® and ALL ITS
ASSOCIATED PRODUCTS.